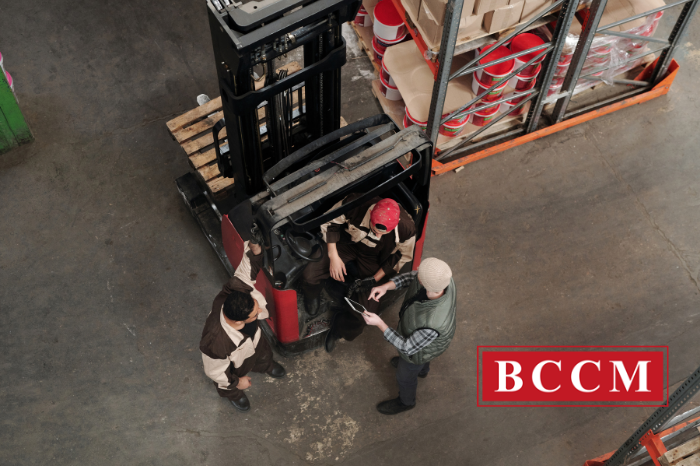 Forklift Operations in Winter Conditions | Forklift Leasing in Vancouver, BC
They say that Canadian weather always strikes when it's most unwanted. We have to endure strong gusts of wind, large patches of ice resulting in frozen surfaces, and snow accumulation. Omitting safety standards can result in ongoing dangers and hazards that risk your facility and the safety of your staff. Is your facility properly prepared to operate during a harsh climate?
BCCM Forklifts offers heavy-duty, dependable equipment that adds great value to your facility. As a company experienced in forklift leasing in Vancouver, BC we understand the importance of durable machinery that will reduce operating costs day-after-day. We sell and lease established names in the industry such as Komatsu, Blue Giant, Sumoglove, Caldwell and more.  
BCCM provides forklift sales in Richmond BC that can accommodate your facility and ensure your safety protocols are up to industry standards. If your material handling involves indoor and outdoor components, your safety and efficiency will depend on tenacious machinery that can handle a variety of weather conditions.
Preparing Your Equipment for Winter Climates
Improperly using a forklift can result in a loss of product and endanger the safety of your employees. Here are some things to consider when you are operating a forklift during the winter:
✔ Factor in Size and Width – A lower capacity forklift will need to make more trips in and out of the facility carrying product, increasing the chances of wear and tear from the cold. A large forklift might be more appropriate, however, there are higher risks of collision. Choosing the right-sized forklift will maximize its lifespan and reduce risks of hazards.
✔ Cautious Driving – Our Diesel, Electric and Propane forklifts are designed with safety in mind, however, dangerous weather hazards can increase accidents. Measuring your warehouse aisles will help you determine the appropriate forklift for the job. 
✔ Lighting System – Winter months bring on reduced daylight. Ensuring that a proper lighting system is crucial in maximizing the safety of your forklift. We offer LED systems integrated into our forklifts that shine brighter during freezing temperatures and prevent your forklift from vibrating when operating.
✔ Hydraulics – A well-lubricated forklift is advantageous all-year-round but in the winter, it is necessary. Dropping temperatures can result in parts freezing up, and a hydraulic system helps in maintaining the maximized function of the machine.  
✔ Battery – A maximum strength battery can withstand frigid temperatures, while one that is not in full working condition will increase your chances of non-responsive equipment. Checking if your cables are properly working and routine battery maintenance will prevent from your forklift failing in times of need; it is also worth keeping in mind that batteries drain at a faster rate in colder temperatures.
Scheduled Maintenance for Forklift Sales in Richmond, BC
Reduce downtime. Increase safety. Lower operating costs.
We offer 90 years of experience in the material handling industry. Amongst providing high-standards electrical, diesel and propane forklift trucks, we also supply pallet stackers, dock loading equipment, shelving and additional related warehouse products.
A respectable client relationship is valuable to us, and that is why we offer 4 service centers throughout British Columbia. We offer honest advice, adhere to strict BC guidelines and regulations and equip you with extremely dependable products.
BCCM backs up all of our machinery and equipment, but the inevitable factor of equipment failure can strike. Our scheduled maintenance programs include:
✔ Yearly Inspections
✔ Safety Inspections
✔ Emissions Testing
✔ Yearly Reports
✔ Service Cycles to Meet Your Needs
✔ Large Stock of Fully-Equipped Vehicles
✔ Flat Rate Programs
Maximize your Facility's Safety During Winter – Contact our Forklift Leasing in Vancouver BC
BCCM Forklifts have been helping customers maximize their facility and warehouse efficiency for 90 years. Contact us today to speak to one of our leasing and buying specialists, or request a quote by clicking here.