Rental Forklifts / Forklifts, Reach Trucks and Pallet Trucks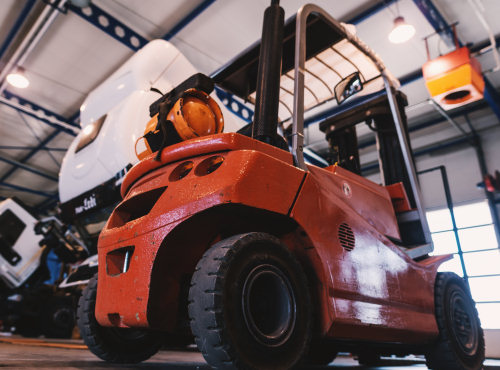 BCCM has one of the largest forklift rentals fleet in Vancouver and British Columbia. Carrying over 300 units, we provide fully equipped, new and late model Komatsu forklift trucks, reach trucks, as well as Blue Giant and Big Joe pallet trucks.
For your safety and reliability, all units are fully inspected and serviced prior to your use. We want to ensure that your needs are met and that you save money as well as time with our speedy delivery right to your location and back!
If you are looking for more information about our rental forklifts and other machinery, simply call 604 321 2331 ext 229 for Bill or ext 230 for Jamie for forklift rentals in Vancouver and the surrounding area.
Our forklifts carry capacities from 3,000 to 30,000 lbs, they can be used for indoor or outdoor use and they are offered in three types: Electric, Propane and Diesel.
Safety tips!
Before renting a forklift there are some things you should take into consideration:
• Operators must be Trained and Certified
• Appropriate clothing should be worn
• Examine equipment before use
• Ensure you are strapped in safely
• Take a look at your surrounding environment
• Operate the forklift at a safe speed
• Avoid hazards (bumps, slippery surfaces etc…)
• Ensure your load is stable and secure
We also carry narrow aisle electric reach trucks, electric pallet movers, and pallet stackers each making moving, reaching and heavy lifting an easier process.
When you rent a forklift with us at BCCM we will include maintenance help as well as same or next day delivery services. We have fair, flexible and competitive monthly rates, special rates apply to longer terms and we do offer rental purchase programs as well!
Forklift Rentals in Vancouver BC
If you're in the market for finding a rental forklift, you might be overwhelmed by all the choices available to you.
BCCM is the largest forklift rental company in British Columbia, and here to guide you on how you can find the right forklift for your needs in Vancouver. Read our blog below to see what makes B.C. Conveying Machinery the industry leader in rental forklifts now!
Why Choose BCCM for Your Forklift Rental Needs?
BCCM proudly carries a wide variety of forklifts and forklift models. With over 300 units available for rental, we are an industry leader in forklift rentals. All of our forklift rentals are fully equipped. We carry late and new Komatsu model forklift trucks, reach trucks, and Blue Giant and Big Joe pallet trucks to ensure all of your needs are met.
Forklift Safety and Inspection
BCCM puts safety first. Because of this, we perform full inspections to each unit prior to your rental. This helps us to not only ensure that each unit is in proper working order for your convenience, but also that each unit is safe for use. Even when factoring in the time for inspection, BCCM forklift rentals are delivered in an incredibly speedy manner, right to your location and back!
What Types of Forklifts Does BCCM Carry?
We carry a variety of forklift models, and their weight limits range from 3000 lbs to 10,000 lbs. They can be used for a variety of projects, as well as indoor and outdoor uses. The three types of forklifts offered by BCCM include: Propane, Electric and Diesel.
Safely Operating Your Forklift Rental
Forklift operators need to be trained and qualified to use rental or non-rental forklifts. Ensure that proper attire is worn while operating your rental forklift by BCCM. Examine all forklifts before use. Be aware of the environment you are using your forklift in to avoid any accidents.
Forklift rentals in Vancouver BC from BCCM made easy! Call us today to learn more: 1-800-814-1406
Speak to Jamie at Extension 230 or Bill Simpson at Extension 229 or email us at bccmltd@telus.net or use the contact tab