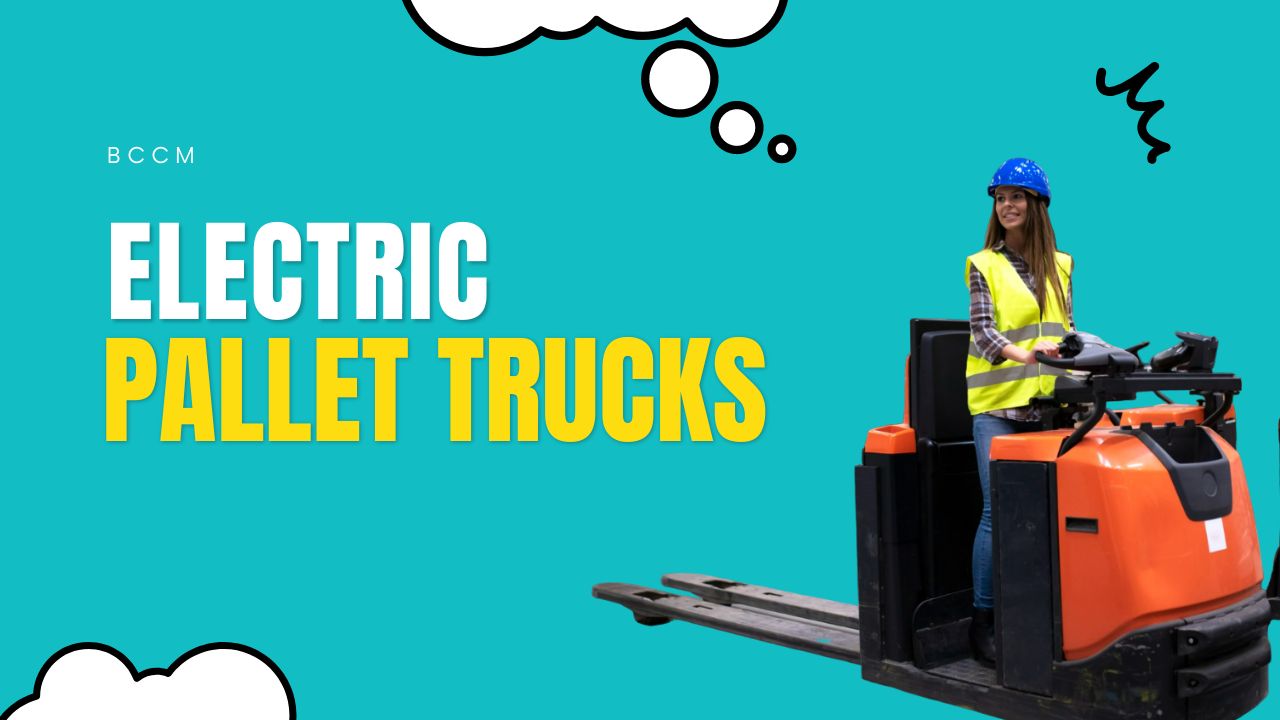 Why YOU should use an electric pallet jack | BCCM Richmond BC
What is a Pallet Truck?
A pallet truck is a wheeled trolley designed to lift and transport palletized loads. The truck's tapered forks slot underneath the pallet and the pump handle can then be used to raise and lower the load. Pallet trucks are commonly seen in warehouses, stockrooms, and other environments where wooden pallets are frequently used. There are many different types of pallet truck available to suit all sorts of different requirements. 
The Electric Pallet Truck
As manual pallet trucks have been around for years, there is a growing demand for electric pallet trucks, since moving heavy palletized goods manually can significantly increase the risk of injury to the operator. There are many benefits to upgrading your manual pallet truck to electric.
How does an Electric Pallet Jack work?
Most electric pallet jacks can be conveniently controlled through the buttons located on the handle. There is a throttle on the pallet jack's handle which can be twisted to move the jack forward. You can pull the controller in the opposite direction to move the jack in reverse. Once you have steered the electric pallet jack to the desired location, simply slide its forks under the load that needs to be moved. 
Blue Giant offers several different options of Electric pallets for a variety of uses, to suit each customer's individual needs. Their catalog features the following products:
The LPJ-44 Electric Pallet Truck features a 48V BLDC permanent magnet motor and an easy exchange Lithium ion battery that allows it to run longer, recharge faster and move heavy loads of up to 4,400lbs with absolute ease.
The SEPJ-33 Semi-Electric Pallet Truck is a natural upgrade from your hand pallet truck. Power drive and an electric brake enables the safe and steady navigation of ramps and inclines, while managing loads of up to 3,300 lbs
The EPJ-30 Powered Pallet Truck combines economy with productivity. A low-cost, high-performance alternative to hand pallet trucks, it is built to accommodate the freight-handling needs of the busiest warehouses with a loading capacity of 3000 lbs
The EPJ-25 Electric Pallet Jack is the ideal alternative to manual pallet trucks. Equipped with an Easy Exchange Battery, extending the run time of this unit is as easy as swapping batteries. This model handles loads of up to 2,500 lbs
The EPJ-40 Powered Pallet Truck was designed specifically to address the unique demands of lift gate and local delivery applications. More compact than a regular powered pallet truck, it supports easier maneuverability when working in loaded trailers, working with loads as heavy as 4000 lbs
The EPJ-45 Powered Pallet Truck is a high-powered solution for facilities and outlets that regularly handle and transport ground-level loads. Quality and rugged components enable smooth and fast operation and keep maintenance costs low with a capacity of 4,500 lbs