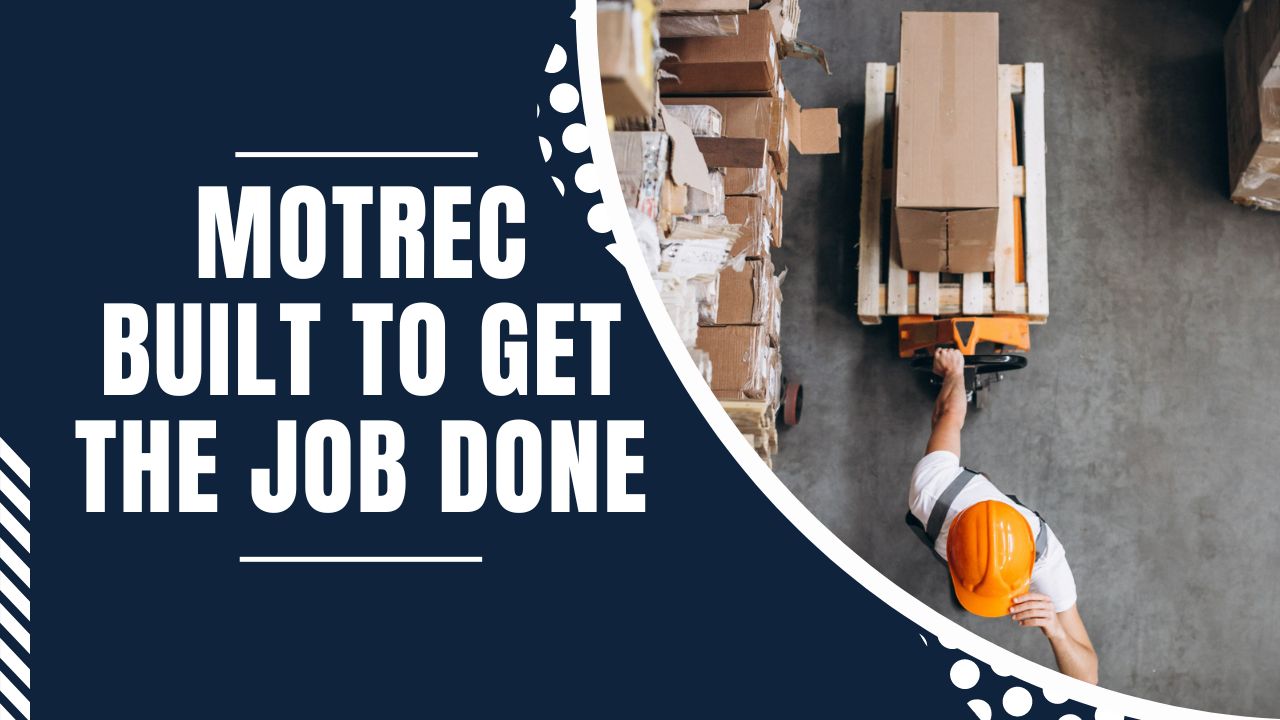 MOTREC – Built to get the job done
As a world-class designer and manufacturer of electric industrial vehicles for horizontal transportation of goods and people, MOTREC International Inc. has built a solid reputation. In order to achieve this preeminent position, we innovated, reimagined, engineered, and pushed ourselves relentlessly. We also consistently exceeded customer expectations. This is why MOTREC has been a driving force in the world of business since 1988, fueling their growth with unwavering commitments to quality, innovation, safety, reliability, versatility and efficiency. 
Challenge us. Focus on solutions. Please let us know how, when, and why MOTREC might change your business landscape. The answer is here. If you need a vehicle right now, or if you want a customized model designed to streamline and improve operations, we can build it for you. No job is too specialized for a MOTREC, as it has over 6,000 possible configurations.
Multitalented & multitasking for a multitude of industries 
Whatever you do, we can help streamline it. Safely, comfortably, and with a reliability that shows we build to impress. Here are just a few of the industries that understand that with MOTREC, everything is a smart move.
Industrial Manufacturing

Cities & Parks

Warehousing & Distribution

Aerospace & Defense

Government & Municipalities

Courier Services

Automotive Manufacturing

Airlines & Airport

Tire Manufacturing
Every MOTREC electric industrial vehicle is renowned for its exceptional level of quality, and we're committed to ensuring EFFICIENCY, RELIABILITY, SAFETY and SUSTAINABILITY remain our top priorities.
RELIABILITY
MOTREC builds reliability into each vehicle with top-quality components made for the long haul:
Aluminum and galvanized steel differentials

High-efficiency, maintenance-free AC powertrains

High-performance direct-drive systems

Heavy-duty, long-lasting industrial batteries

100% steel unibody constructions
SAFETY
All MOTREC vehicles come with a long list of standard safety features:
Neutral start switch for a safer start sequence

Excellent weight distribution for better braking capacity

Emergency stop button and deadman seat switch

Energy recovery system during braking to prevent overspeeding

Powerful automatic electromagnetic parking brake
EFFICIENCY
Choosing MOTREC means choosing efficiency:
Models able to meet your exact load, towing & passenger capacity specifications, including models that can handle tight spaces, rugged terrain, intense temperatures, extra-long shifts, etc.

Bumper-to-bumper designs that make maintenance quick & easy

Vehicles built from the wheels up with proven technology and highly efficient, top-quality components that last
SUSTAINABILITY
It is the goal of every business to do right by the environment. Our environmentally friendly vehicles are equipped with electric motors that are energy efficient, regenerative braking systems that reduce emissions, and zero-emission braking systems.