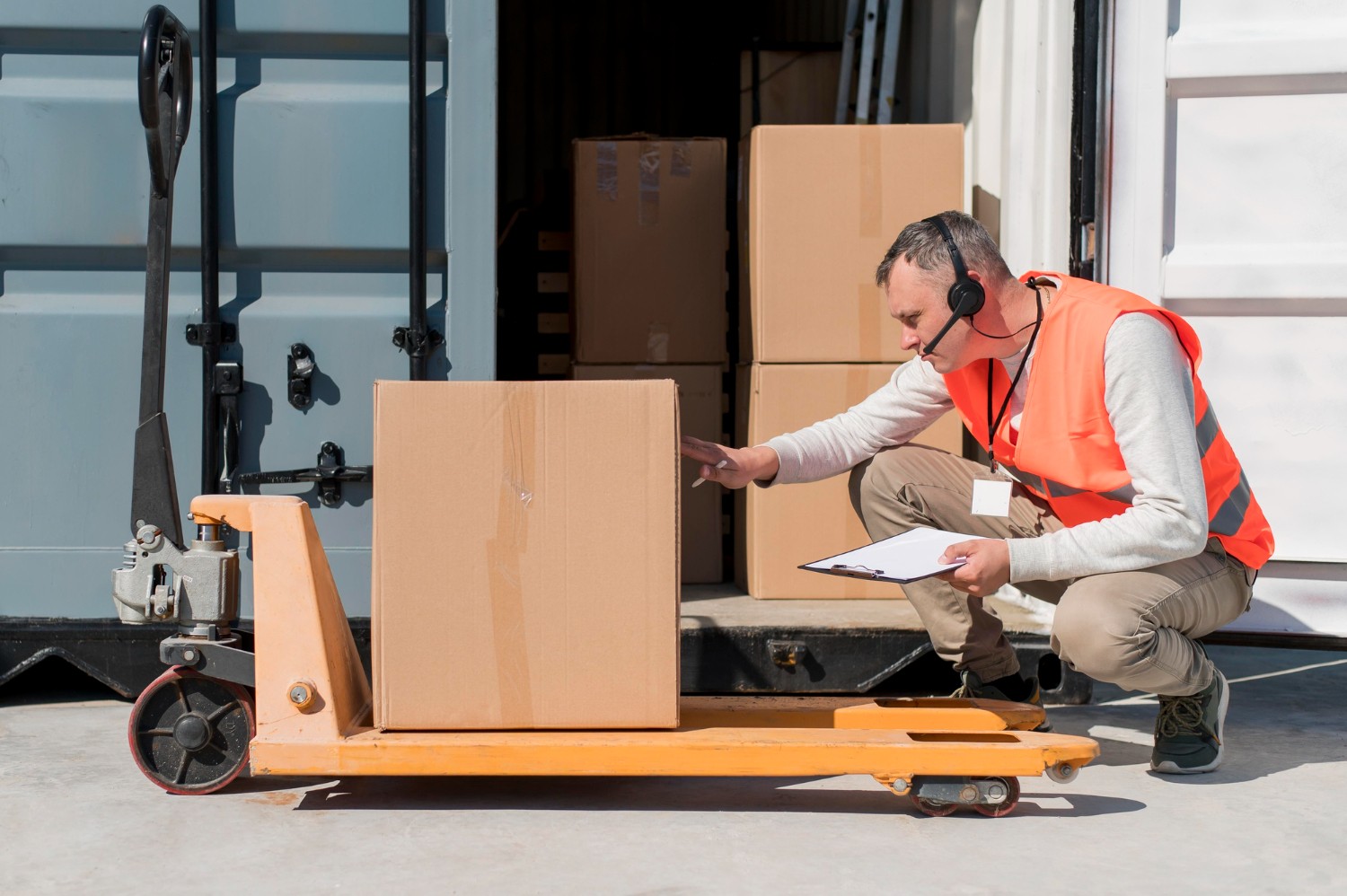 Slash Downtime And Increase Staff Productivity With Electric Pallet Trucks And Stackers
At BCCM, we believe electric pallet trucks are essential equipment to have in a warehousing facility. There are many different types of pallet trucks and stackers available on the market, such as the Big Joe by Blue Giant product line. Our BCCM team will help you find the right one at the right price when you contact us for a quote. We also provide Komatsu Forklift repairs and other useful maintenance repair services to keep the equipment running. 
One of the most essential equipment to have as part of your warehouse facility is an electric pallet stacker. Commonly known as electric pallet trucks or electric pallet jacks, a pallet stacker is a type of specialized forklift equipment created to handle heavy warehouse material. It's primarily used to lift and stack materials when a standard hand pallet truck is unable to transport them. Electric pallet trucks and stackers can smoothly lift a number of heavy objects from lower-level to mid-level positions, helping you to limit downtime and increase productivity in your workplace.  
With electric pallet trucks at your disposal, your daily work operations will run more efficiently. Here is how the equipment accomplishes this and delivers on many benefits you can take advantage of for your workplace. 
Our company specializes in material handling equipment with sales, service, rental and leasing of electric forklifts in BC, propane forklift trucks, electric reach trucks, narrow aisle trucks, order picker trucks, electric pallet jacks, manual pallet jacks, electric pallet stackers, manual pallet stackers, electric / LPG tow tractors, electric vehicles, dock loading equipment, elevating docks, truck latches, safety lighting systems/controls, speed doors, door & door seal, racking, shelving, weigh scales and related warehousing products.
How Much Can An Electric Pallet Jack Lift?
On average, an electric pallet jack or stacker can carry and transport up to 4500 lbs of material in any warehouse setting. They can be especially useful for both small businesses and large-scale distribution centers. The electric pallet jacks provide long run-times and are highly maneuverable in many spaces.  
Depending on the pallet jack brand or manufacturer, the max lifting capacity can range between 3000 to 5500 lbs of warehouse product. Higher capacity pallet jacks will have a higher price, depending on the type of operations your business is running. Think of them less like the cheaper version of a standard forklift and more as an extension of them for your daily workload. 
Pallet jacks and stackers often don't require a license to use, but you should properly train your workers on best practices and injury prevention. Their high maneuverability makes them easier to fit and transport items into narrow aisles, boosting your workplace's overall efficiency. Pallet stackers and trucks are often recommended for jobs that require less output and are ideal for inventory facilities, stores, and production lines. They're also useful for trips in short distances and can help you transport pallet stacks much quicker. 
How Long Do Electric Pallet Jacks Last?
With any machinery or equipment, maintenance and repair should be taken to extend the lifespan of an electric pallet jack. Electric pallet jacks and trucks are typically run through batteries and require consistent charging between uses. If your warehouse requires frequent use of the equipment, the equipment can work for around 3-4 hours and can easily exceed its average lifespan of 10 years. With proper maintenance being conducted, an electric pallet truck and stacker can survive under constant use. 
If it's possible, these types of equipment should be serviced or inspected annually to ensure they're in working order. More visits may be required, depending on the amount of application and movement of different materials. Our reliable team at BCCM will gladly assist in providing crucial maintenance, repairs, and inspections to keep your pallet jacks, trucks, and stackers running. 
What Are The Benefits Of Electric Pallet Jacks For My Warehouse?
Pallet jacks and stacker equipment carry many benefits for businesses that run a warehouse facility. They work to provide advantages for both management and employees in the long run. 
One of them includes fitting into your overall budget that offers 65% of financial savings, in comparison to purchasing a standard forklift. Pallet jacks can also reduce your overall workload because of their transportation efficiency and ease of movement. This in turn can increase productivity and make your workers' jobs easier. 
Since the pallet trucks and jacks are powered by electricity, it results in quieter operations and a lack of pollution or fumes. It can help you keep enclosed areas within your warehouse facility clean and without disruptions. The equipment also has better ergonomics for your workers because of their ability to lift and propel heavy stacks with a powered motor. This reduces any back strain or fatigue experienced by manual applications. As such, you can also expect a reduction in workplace injuries and dissatisfaction. 
Contact us at BCCM today to ask us for a quote on our pallet trucks, jacks, and stackers in our inventory. Ask us about our exceptional line of forklift machinery and general maintenance services today!