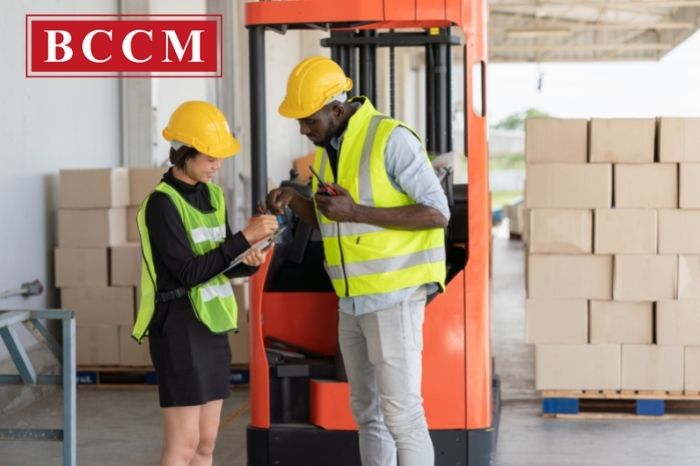 Summer Safety Tips for Operating Your Forklift | Affordable Forklift Sales in Vancouver, BC
Operating heavy machinery takes training, skill and experience, as well as attention to detail. The risks of operating a forklift in your facility can be increased by extreme weather conditions – especially heat. With over 90 years in the material handling industry, we understand what it takes to run a successful warehouse facility and are dedicated to working with leading manufacturers such as Komatsu, Caldwell and Blue Giant. 
At BCCM, we specialize in machinery rental and leasing and forklift rentals in Vancouver, BC that are aimed to increase the safety of your personnel year-round. Our loading dock equipment in Vancouver is manufactured to the highest standards so that your workplace productivity can be maximized and your level of stress minimized. 
Protecting your forklift during the summer
One of the most common issues a forklift may encounter is overheating. With increased temperatures, internal system problems may rise faster than in the winter. In order to prevent a forklift breakdown, ensure that the coolant fluid levels are at least to the minimum level to prevent potential engine damage. If the coolant liquids are regularly checked and replenished, the chemicals cannot seep into any system mechanisms and further damage the internal network of the forklift.
Next, the radiator should frequently be inspected for damage, as cracked and malfunctioning radiators can cause further damage to the radiator. Keep in mind that radiator hoses that are not tight enough or are cracked can accelerate the breakdown of the rubber, so a frequent inspection of the hoses is also highly recommended.
All fluid levels, such as Internal Combustion truck oil and battery fluid on Electric trucks, should be maintained and checked continuously to assure the heat has not depleted it.
Inspecting the forklift tires is a necessity
Rubber, out of all materials, tends to deteriorate the fastest in the presence of heat; increased temperatures enhance the effects of the cracking and other forms of wear and tear on the tires. Because heat raises the pressure in the forklift tires, pneumatic tires should have their pressure checked regularly to prevent a frustrating tire blowout in the middle of the workday.
Ensure your forklift operators are safe during the hot months
The forklift is a fantastic investment that increases the productivity of daily operations and ensures materials are transported safely from place to place. During the summer, the most important asset to your facility operations will be your forklift operators, and there are some necessary measures to be taken when working both indoors and outdoors during the hot months:
Wearing sunscreen

Staying hydrated

Taking small breaks if working consistently in the heat

Avoiding using the forklift if an operator is exhausted
Offer the most updated forklift safety training
You take pride in your workplace, and a large part of running your business properly is ensuring that your employees are all educated on proper safety procedures and protocols. Ensure all forklift operators are certified with the latest OSHA forklift safety requirements and receive ongoing forklift training to prevent potential workplace accidents.
Needing a forklift for the summer? Call us to get the job done! | Reliable forklift leasing and sales in Vancouver, BC
Summertime is a busy time for forklift drivers. There are increased orders that need to be fulfilled, overtime hours usually peak during the warmer months, and the unique demands and challenges of outdoor forklift operations (for some workers) demand attention to detail and safety-minded practices to avoid accidents. 
Ensure your facility is safe and productive with reliable forklifts and affordable machinery leasing! Contact us for a quote today and speak to a licensed representative that can answer all your questions and queries.