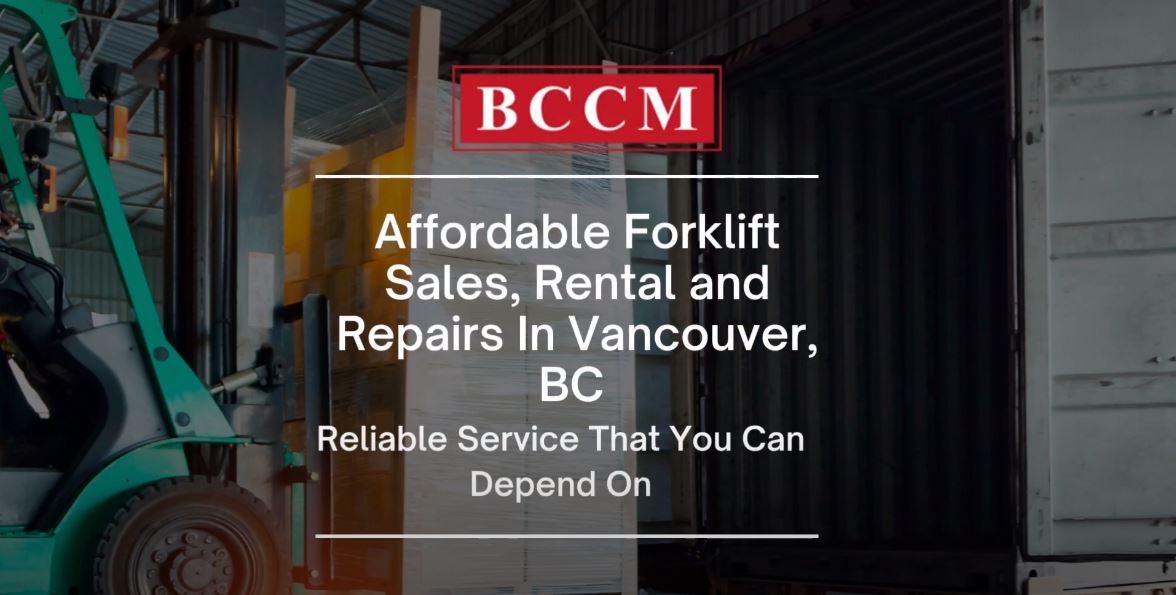 Everything Forklifts, Pallet Jacks, Stock Chasers, Tow Tractors, Dock Levelers & Machinery – Buy, Rent, Parts, Repair and Service | Richmond | Vancouver
Your One-Stop Solution for Material Handling Equipment in Richmond and Vancouver area. Material handling and logistics require reliable equipment in order to operate efficiently, whether that be in a warehouse, distribution center, manufacturing facility or any other operation that relies on goods moving smoothly – that's where BCCM comes in! As your trusted partner for all of your material handling equipment needs we are here to support your efforts. When it comes to material handling equipment purchases, BCCM provides reliable solutions. From forklifts that are capable of lifting heavy loads with precision to pallet jacks designed to maximize efficiency and ease of use – our selection meets the demands of modern businesses and operations of all sizes. As each operation differs significantly from another, our personalized consultations help select equipment which best meets both requirements and budget constraints. Great Prices.
Prefer to rent equipment? Not every business requires long-term equipment ownership. That's why BCCM offers flexible rental solutions. Whether it be equipment for short-term projects, seasonal spikes in demand, or simply to try something out before purchasing, our rental fleet has what you need – with well-maintained equipment at competitive rates so your operations run seamlessly without the burden of ownership.
We got parts! Equipment downtime is costly, which is why BCCM maintains an expansive selection of parts for forklifts, pallet jacks, stock chasers, tow tractors and dock levelers. Our experienced staff can assist in sourcing genuine OEM parts that keep your equipment operating at peak condition – trust BCCM to keep your operations running efficiently.
Ask our technicians about repair and service for your equipment. Breakdowns and maintenance are unavoidable, but they don't have to interfere with your workflow. BCCM offers expert repair and maintenance services designed to keep your equipment performing at peak levels. Our highly-trained technicians use state-of-the-art tools and diagnostic equipment to quickly identify issues, minimizing downtime. In addition, our regular maintenance programs extend its lifespan while reducing unexpected breakdowns.
The company specializes in material handling equipment with sales, service, rental and leasing of electric forklifts in BC, propane forklift trucks, electric reach trucks, narrow aisle trucks, order picker trucks, electric pallet jacks, manual pallet jacks, electric pallet stackers, manual pallet stackers, electric / lpg tow tractors, electric vehicles, dock loading equipment, elevating docks, truck latches, safety lighting systems / controls, speed doors, door & door seal, racking, shelving, weigh sclaes and related warehousing products.
Komatsu | Blue Giant | Motrec | Big Joe | Sumoglove | Totall | Caldwell
BCCM is the dealer for great product lines for the Province of B.C, Motrec line of products, Komatsu Forklift, Blue Giant Dock, Door and Warehouse Equipment, Blue Giant by Big Joe USA Warehouse Equipment, Motrec Electric Tow Tractors and Warehouse Equipment, Totall Forklift Attachments, Caldwell Inc Forklift Attachments and many more complimentary product lines. Everything Forklifts, Pallet Jacks, Stock Chasers, Tow Tractors, Dock Levelers & Machinery – Buy, Rent, Parts, Repair and Service – Great Prices. Call 604-321-2331 | #236 Parts | #233 Service | #230 Sales / Rentals | Toll Free 1-800-814-1406.